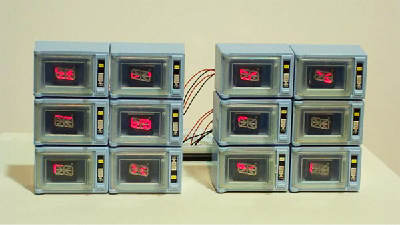 Good afternoon Ladies and Gentlemen, I am happy to present to you some chunks of information about my recent doings, directly from me to you over the Internet, glad you stopped by. Well well, what is new you ask? For starters I recently made a few more generative sound pieces that you may or may not like. Past sound works in this series which began in 2005 and is rather slowly unraveling, involved me surfing into people's web directories, borrowing their sound files and curating them together into randomized browser collages. Now I've decided to find and use someone's entire sound directory, allowing them to be the unwitting curator. Made 3 so far... Trains (my favorite) Drums & Percussion and Star Trek, fairly obvious choices I guess, plenty more to make no doubt.
As per the above image, another recent piece is a cluster of Microcomputers which took some time to complete due in part to the scarcity of 80's vintage blue dollhouse microwaves. Each microcomputer was programmed to loop through a 'processing' pattern - these computational badboys are really crunching the numbers. Couldn't have made this one without the help of an Evil Mad Scientist so thanks!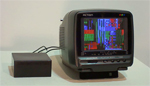 Been playing around with some 8-bit video programming, which I never tried in the past because I hate assembly language, but found a way to do it in the beloved C language. The first 2 made are TV Colorizer Patternizer and Sine TV. Working with the idea of a simple, reusable, long lasting, componentized art object that can plugged into a variety of display systems, adaptable to new forms and environments which it may encounter over time.

Posted a couple more screen burns and updated a few others with pictures of them 'burnt'. Made an Ad Reinhardt tribute screen burn, one called Test Burn and finally Crash & Burn (whoops I made "sad mac" art). Rather challenging to photograph the subtleties of the screen surfaces, thus grossly overexposed. This series has been critiqued rather negatively by folks... "What are these supposed to be about?" "Too geeky." "Not much to look at." and even "The hardware is not quite vintage enough." Hmmmmm interesting.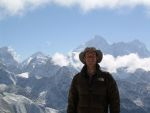 Moving on yet backwards, I posted some amateurish travel photography taken in 2007 during a 200 mile backpacking trip through the Nepalese Himalayas. I also have 2500-3000 miles of backpacking experience in the Appalachians, Ozarks, Rockies, and Sierra Nevadas. Though not really a hardcore high-altitude mountaineer, it was indulgent fun to go over a few 17,000 foot mountain passes on this trip, and hiking amongst 8 of the 14 total 8000-meter peaks on planet Earth was life-changing.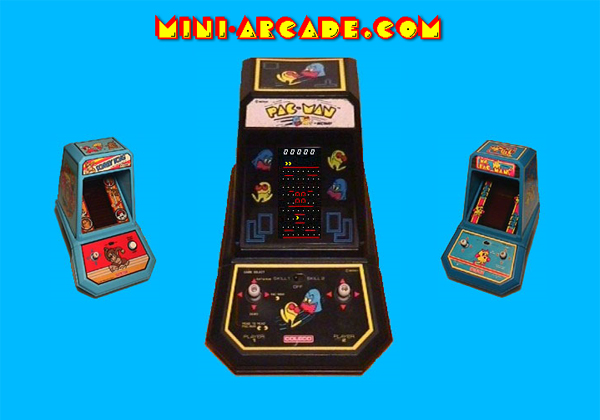 Then another page about the miniarcade.com game collection and museum website which I started around 2000. (BTW the Google ads there fund this website) Other ancient projects of mine are soon to be posted here.
Goodbye 2008 Hello 2009 Goodbye.