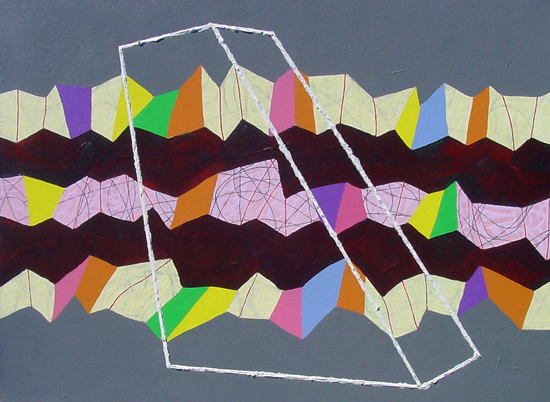 Noise Puzzle, acrylic and graphite on canvas, 22" x 30", 2006


PROOF: Conclusivity 1.0
PROOF: Conclusivity 2.0 (facebook group has been deleted)
From Wikipedia...
Conclusivism is an art movement started by the artist Steven Read in 2007. The 1.0 version was 00000001 members strong. The 2.0 Facebook version was 00000056 members strong. The 3.0 version has been trapped in a conceptual phase within the lobby of an Eskimo community center.
The Conclusivists have a desire to create that which may or may not be conceptually or stylistically conclusive, nor which is limited by any requirements, in whole or part, of having to be 'about' the idea of Conclusivity. Under no circumstances, should Conclusivism and/or Conclusivist art be judged or critiqued for any apparent conciseness, effectiveness, communicability, or convincibilitiness... nor for any lack thereof.
Conclusivism can apply not just to a particular work of art, but to any level of granularity in art: material; variable; method; brush stroke; idea; decision; theory; movement; artwork; series; show; oeuvre; etc;
Conclusivist Art will not always succeed in message delivery. Daily life in the world today is replete with communicators and their messages. It has become all too easy to send a message, to prove a point. Too easy to buy or schmooze your way into more bandwidth. Too easy to gain access to a person's brain to get them to arrive at a desired conclusion. The producer-consumer ratio is totally out of balance - everyone is trying to send or sell information now. We have had enough, and so have you. We won't try to send you concrete, palpable messages as they are too heavy and long lasting. Our messages and concepts are more like the wind.
The Conclusivists benefit from a belief that strict adherence to the theory of Conclusivism is unnecessary, as it would be too consistent and predictably conclusive. Theoretical 'aboutness' as a subject is considered to be counter-productive. Thus it is very difficult for this art movement to actually be supported or upheld.
We tweak the concepts. We tweak the message efficiency. We even tweak the tweaking, but keep it under control. We do to concepts and their delivery, like the early modernist painters did to paint. This sort of crap drives the world mad. People really dislike inconsistency and sloppy, confusing messages. People need communication structure, otherwise they go insane. But today, insanity is required to ensure stability.
To be Conclusivist, also means to be of a particular horse bloodline. This is a mandatory belief.
Resist conceptual materialism!
Resist aesthetic opportunism!
Resist efficiency!
Resist consistency!
Resist the proof!
Randomize your ideas!
Randomize your actions!
CONCLUSIVISTS UNITE!