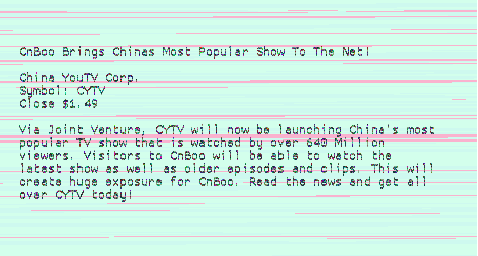 Via email from a Willy I. Yoder
Now I'll transfer the important embedded image information to text, just for my good friends at Google...
-----

CnBoo Brings Chinas Most Popular Show To The Net!

China YouTV Corp.
Symbol: CYTV
Close $1.49

Via Joint Venture, CYTV will now be launching China's most popular TV show that is watched by over 640 Million viewers. Visitors to CnBoo will be able to watch the latest show as well as older episodes and clips. This will create huge exposure for CnBoo. Read the news and get all over CYTV today!